Creation Vinium
Simonnet-Febvre Chablis
Founded 1840, Maison Simonnet-Febvre is one of the oldest established traditional wine producers in Chablis.
Read More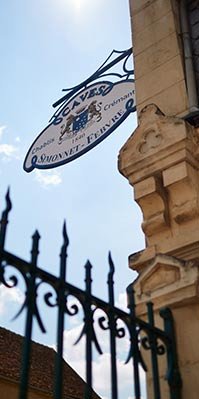 Simonnet-Febvre Chablis
Founded 1840, Maison Simonnet-Febvre is one of the oldest established traditional wine producers in Chablis.
Simonnet-Febvre now produces a wide range of wines representative of the different terroirs of Chablis and the Yonne. The house style has developed following the same principles across the entire range, from the famous Saint-Bris to our exceptional Chablis Grand Cru 'Les Clos', and including our production of Cremant in the Yonne and Auxois regions. Located in Chablis and at Chitry-le-Fort, our historic buildings and modern infrastructures allow us to express the unique personality of Chablis and perpetuate a century-old tradition.
With vineyards in Chablis, Chablis Premier Cru 'Mont de Milieu' and Chablis Grand Cru 'Les Preuses', the Maison Simonnet-Febvre makes and matures wines in keeping with tradition. Chardonnay is the only grape variety used in the whole of the Chablis vineyards, grown in the heavily limestone Kimmeridgian soils which have made Chablis famous. The cold climate and steep inclines in these vineyards give the Chardonnay complex mineral aromas and superb acidity. Chablis wines can be appreciated whilst young, but also offer great ageing potential, especially the Premier and Grand Crus.
As part of the historic activity of the Maison, we have the particularity of being the only producers in Chablis of a range of Cremants de Bourgogne. These Cremants de Bourgogne are crafted from Pinot Noir and Chardonnay using the "Méthode Traditionnelle".
The Maison is also present in the vineyards of the Yonne, where the vines destroyed by the Phylloxera epidemic in the 19th century, were progressively replanted and have regained their notoriety today. Several grape varieties thrive in this region: Chardonnay, Pinot Noir, Sauvignon Blanc, Aligoté and some lesser-known varieties such as César.
In 2013, Simonnet-Febvre launched an ambitious project in the Auxois to revitalise this neglected wine producing area. After finding favour at the Court of Versailles, the vineyards of the Auxois covered almost 5000 hectares in 1830, but fell into oblivion after suffering a period of war and Phylloxera. Largely forgotten since the 19th century, the Auxois was awarded the appellation "Indication Géographique Protégée Côteaux de l'Auxois" in 1979. Via the acquisition of 15 hectares in the terroirs of Villaines les Prévôtes and Viserny, Simonnet-Febvre were able to put into practice their traditional yet innovative vision of vineyard management and winemaking in the "Grande Bourgogne". These 25-year-old vines, well exposed facing south-east and trained in 'lyre' form, are entirely handpicked. We harvest and make three wines with quite distinct personalities: "Esprit de Lyre" made only from grapes from the Auxois, "Saveurs de Lyre" which is a subtle association of Auxois grapes and Chardonnay, and finally "Quintessence de Lyre" which is 100% Chardonnay.